Are you looking for the best gifts for anxiety relief? The right gift for someone with anxiety may really help relieve the stress of your loved ones and help them to calm their mind and body.
Here's our list of thoughtful gifts for people with anxiety organized by category and with our top picks for each of them:
LIFESTYLE
TOYS & GADGETS
AROMATHERAPY
ELECTRONICS
BOOKS
JOURNALS
WEARABLE
FOOD & DRINK
How I selected those gifts for people with anxiety:
I picked the best gifts for anxiety based on my personal experience and desires as an anxious person myself. I also included handy links with where to buy those gifts in the UK.
My gift list pricing guide:
££££ – more than 80£
£££ – more than 30£ and up to 80£
££ – between 10 and 30£
£ – less than 10£
Best Gifts for Anxiety Relief: The TOP PICKS
When looking for Christmas gifts for someone with anxiety you should be mindful of the person's anxious feelings. For this reason, Avoid items that carry any commitment for the receiver.
For example, a voucher for a SPA, a ticket for a concert, or a coupon for a restaurant may seem like good ideas at first, however, they require the recipient to do something. As such, those types of gifts may end up causing stress and anxiety instead of relief.
For the same reason, pets or even plants should be avoided as gifts for people with anxiety. Because especially those 2 types of presents are pretty much guaranteed to trigger stress and anxiety.
Other people with anxiety may be more triggered by bright or flashing lights. So avoid anything that can eventually trigger discomfort in the eyes.
Now that you know what to avoid, the good news is that there are plenty of very thoughtful gifts for anxiety available to choose from. Those not only do not require any additional commitment for the receiver, but they also have beneficial calming and relaxing effects on the mind and body!
Here are my top 16 picks. Those are the best gifts for anxiety relief and will certainly be very appreciated by someone with anxiety!
Price: ££££
TOP PICK
Only a few years ago I would have never thought that something like this really existed, even less that it could be such a game-changer for anxiety! This was until I found out about these therapeutic blankets and tried one of them.
The Relixiy® weighted blanket for anxiety will give you a feeling of safety and relaxation like no other. The receiver of this gift will love this therapeutic blanket so much that will just pack the old duvet away.
The gentle pressure of this heavy blanket will keep you feeling comforted, cozy, and secure, making it very appealing to fall asleep.
Think about when you were a child, do you remember that feeling of warmth and safety you enjoyed in winter when sleeping under many blankets? That's how it feels to sleep under the comforting hug of a Relixiy® anxiety blanket.
A Relixiy® anti-anxiety blanket for adults and teenagers is one of the most thoughtful gifts for anxiety you could make to your loved ones. Because more calmness and more restful sleep are 2 of the best presents you could give them for their wellbeing.
Can you imagine that every time your loved ones will go to bed they will experience that comforting feeling of safety and relaxation? Isn't that an amazing thought? All of this while also enjoying the unique comfort and luxury feel of this perfect weighted blanket for anxiety!
Thanks to deep pressure stimulation therapy this blanket is naturally reducing cortisol (stress hormone) and stimulating the release of happy chemicals (serotonin) which boosts your mood. Finally, serotonin is converted into melatonin, which regulates your sleep.
This is one of the best Christmas gifts for anxiety to receive: calming, comforting, and improves sleep too!
I sleep with it every night and since I started using it I became more active and calm. Easy and natural!
Pros
★★★★★ Relaxation, and calming feeling of comforting safety
Can improve sleep and relieve anxiety
Luxury premium quality and super comfortable
Machine washable
Long lasting: I've been using it every night for almost 3 years and it still looks like new
Ethical, eco-friendly, hypoallergenic gift
Cons
A bit expensive, but better value for money compared to other options
Best Gift For
Anxious person with sleep problems
Promoting calm, relaxation, and sleep
The Pranamat ECO acupressure mat makes it on this list as my second best pick when looking for gifts for someone with anxiety.
I've had my eyes on this mat for some time already. If acupressure sounds scary to you, don't worry, according to hundreds of reviews this mat feels just amazing and surprisingly comfortable!
Thanks to its unique massage, this mat can relax your muscles and calm your mind already after just a few minutes of use. Its benefits include pain relief, improved lymphatic circulation, and blood flow that contributes to relaxation.
The Pranamat eco-friendly mat, with its patented lotus spike design, is the best acupressure massage mat to stimulate nerve centers.
As an anxious person, I would personally love one of those as a Christmas gift!
Pros
Can help to relax and boost energy levels
Can offer back pain relief
Premium materials and 5 years warranty
Eco-friendly
Cons
A bit expensive, but the receiver may end up enjoying it for a long time
It may take some time to get used to it
Best for
Unusual gift
Back pain relief
Price: £££
3rd PICK
This Buddha Drawing Board is a truly unique idea: a drawing board to learn to let go. The drawing board will gradually clear itself during the day allowing the receiver to meditate on the transitory nature of problems in life.
A very relaxing and original gift that is ideal for someone with anxiety.
Just think about how relaxing it would be to play some classical or meditation music while water painting. Then you look at your board after some time and the painting is gone, ready for a new creation.
What an amazing symbolism to subconsciously learn to let go of anxious thoughts in life.
I also love the little accessories it comes with as well!
This is for sure a very interesting Christmas gift for anxious people.
Pros
Original and unusual relaxing gift
Good for creative people with anxiety
Can complement yoga and meditation
Cons
Not everyone likes to paint or scribble
Best Gift For
Price ££
I always loved stress balls, they fit in your hand and you can squeeze them to release tension and anxiety. They are also a good exercise for your hands, that you can do also while at work in the office.
In addition, stress balls can also be used as a meditation tool, and are small enough to carry around everywhere. They can also be a useful distraction from anxiety habits.
This set comes with 3 gently scented stress balls: hard, medium, and soft.
Each ball has a different theme with writings to help tackle stress and anxiety.
Finally, the set comes with a handy exercise guide explaining the different ways you can squeeze the stress ball and exercise your hands.
I find stress balls an effective tool to relieve anxiety and release tension, especially when out of my house because they are small and lightweight and I can simply carry them in my purse. That's why those could be a simple and effective gift for someone with anxiety.
Pros
Good gift for everybody with anxiety
3 different levels of softness
Relieve stress and release tension everywhere
Price below 20£
Cons
Some people complain that the 3 balls all feel the same
Best For
A classic gift for anxiety
---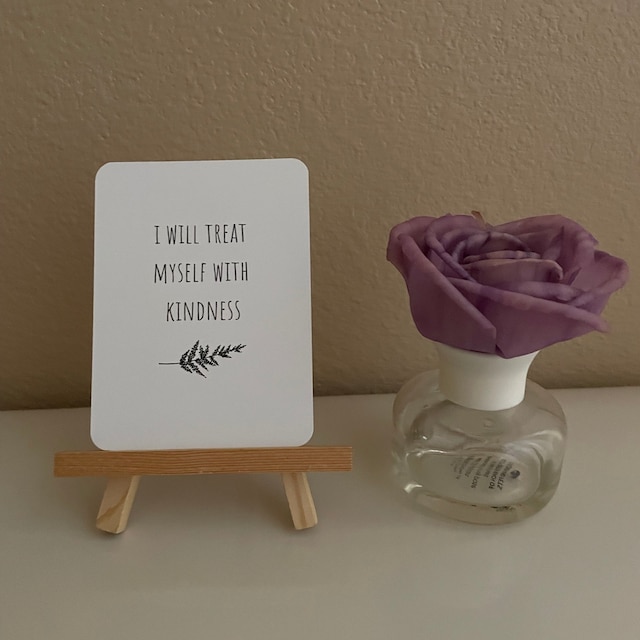 Price ££
I love this set of handmade affirmation cards for mental health. Those can be very helpful to calm down the mind of people with anxiety.
Practicing affirmations can help to gradually shift our perception of life and ourselves. A very powerful too indeed!
But how can affirmations help someone with anxiety?
According to recent studies, it works like this: the way we talk to ourselves influences the way we feel.
Practicing positive affirmations every day can help to be less anxious and improve self-esteem. It can be a thoughtful gift for anxious people and a powerful way to reprogram our minds to get rid of anxiety.
Ideal also as a gift for a colleague or to bring to the office and spread positivity!
Pros
Simple and beautiful cards
Can slowly help anxious people to change their mindset
One new positive thought every day
Eco-friendly gift
Cons
The set includes only 20 cards
Best Gift For
---
Price £
The moody reversible octopus is such a cute gift idea for anxious or moody people!
This two-sided plush octopus can be flipped according to your mood. Happy on one side and upset on the other.
Good for kids and adults of all ages, this present will for sure attract a happy smile from the receiver.
For particularly shy children, this toy may help them to somehow communicate their mood more easily and ease their anxiety.
I would personally love to receive this moody octopus plush toy from a friend as a gift for Christmas, Halloween, or another holiday.
Pros
Simple and cute plush toy
Can help to communicate the mood of shy children
Good gift for a friend or when you don't want to spend much
Cons
It arrives vacuum packed so make sure to unbox it and pack it in a nice gift wrap beforehand
Best For
---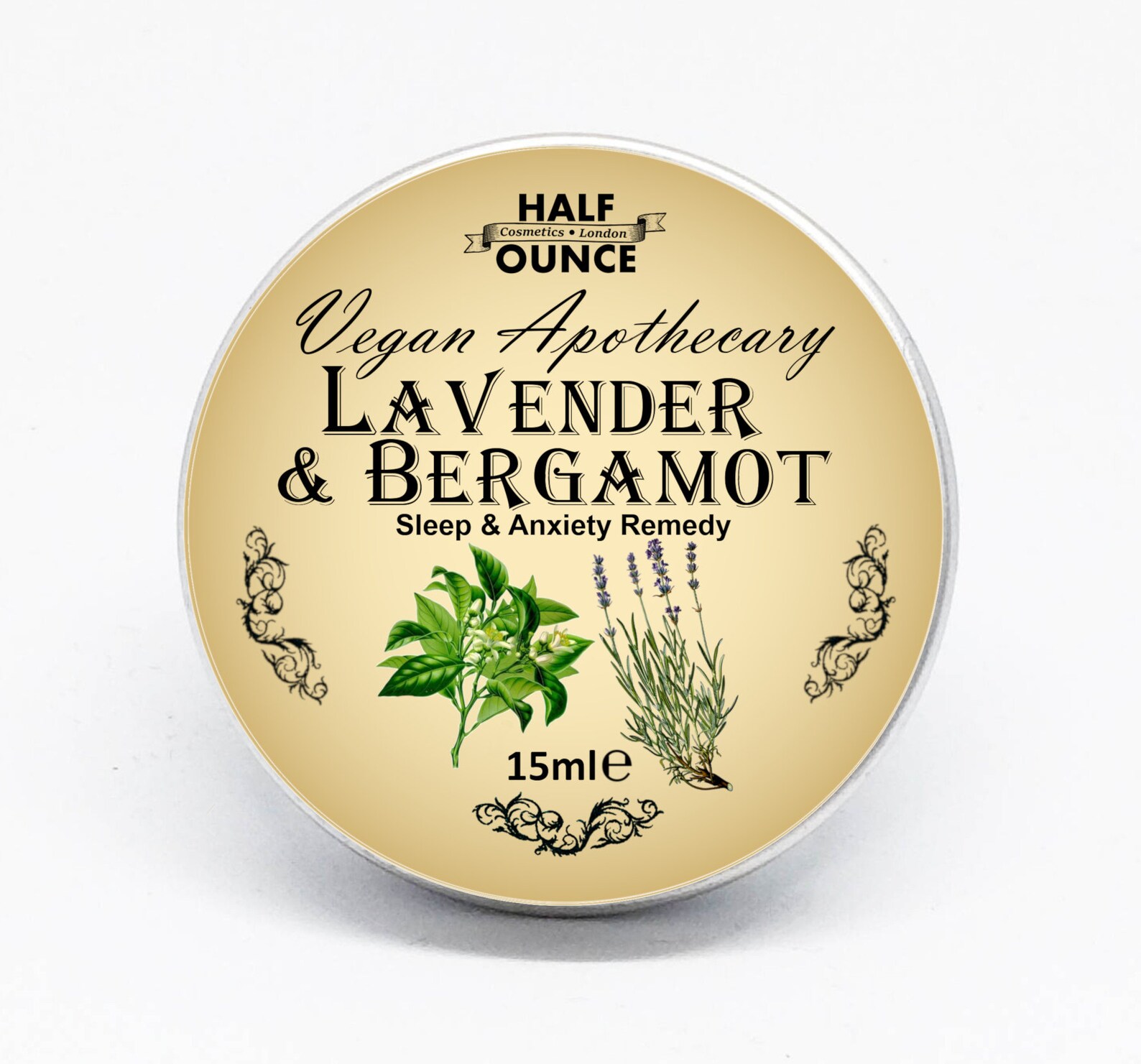 Price £
You can't go wrong with a relaxing and naturally calming bergamot and lavender balm.
This handmade calming balm is made from coconut oil, carnauba wax, and shea butter. An interesting 100% natural and vegan-friendly gift idea.
You can apply the balm on the chest, temples, or other parts of your body to benefit from its soothing and calming effects.
Lavender is one of the best essential oils for relaxation and anxiety and this balm is a convenient mix to benefit from its relaxing properties.
Pros
100% Natural calming balm
Vegan-friendly gift idea
Inexpensive
Cons
Best For
Handmade natural gift lovers
---
Price ££
This stylish ceramic essential oil diffuser is ideal for relaxing aromatherapy at home.
Simply fill it up with water and add a few drops of your favorite essential oil for calmness and relaxation (lavender, bergamot, or chamomile are best).
The ultrasonic diffuser is completely automatic, set, and forget. Just remember to refill it when you see it switched off because it will shut off automatically when the water is finished.
A great gift idea for anxiety, with relaxing aromatherapy without having to worry about switching the diffuser off or continuously checking it to see if the water is finished.
Pros
It looks more expensive than it is
Ceramic material
Automatic shut-off
Cons
Best Gift For
---
Price: ££
There's nothing more relaxing and soothing than a nice hot bath with Epsom salts after a hard and stressful day at work.
I always have a hot bath when I feel particularly stressed and tired. It's regenerating and very relaxing for the mind and body.
A lovely gift idea especially for women with anxiety.
This 100% natural and pure Epsom salt gift set comes with:
3 different fragrances: vanilla, lemon, and floral blossom
Rose essential oil for skin moisture
Moisturizing foot lotion, good for winter
The only issue with this gift set is that you may end up liking it so much that you may prefer keeping it for yourself!
The smell that comes out even from just the closed box is so nice and refreshing, and the jars with the salts are so nice that will for sure attract the attention of the receiver.
Pros
Relaxing and good for skin health
Great smell and beautiful jars with different fragrances
Cons
The receiver needs to have a bathtub
Best Gift For
---
Price: ££
This white noise machine is another item on my list of desired gifts.
I've never personally tried one, but I've heard that they are good to stimulate sleep, especially for children and toddlers. However, they should be working also for adults.
This machine has 25 different sounds, including sea waves, campfire, rain, and meditation.
Are you also feeling sleepy when it's raining? I am, and I think that's because of the white noise made by the rain. This machine is mimicking exactly that!
This interesting gift for someone with anxiety or sleep problems also comes with an integrated lamp with 4 different light intensity levels.
Pros
Simple and good for all ages
Good if you prefer to have some gentle light on at night
Cons
Some people refer that the button click is too loud
Best For
---
Price: ££
"Untangle your anxiety" is one of the best books to understand anxiety and try to solve the problem.
If the receiver is an anxious person and would like to better understand anxiety, then this is the best gift you could make.
Written by the psychotherapist Joshua Fletcher and by Dean Stott, the founder of the largest anxiety community on Instagram, this book can give some of the needed support when trying to overcome anxiety disorders.
It explains anxiety in a very simple, manageable, and supporting way. It can change completely how the receiver responds to anxious feelings.
This book is a must-have and a great gift for anxiety. The receiver will for sure appreciate this helpful and thoughtful gift.
Pros
Helpful, simple, and supporting information to better understand anxiety
Cons
Not everybody likes to read
Best Gift For
---
Price: ££
The 5 minute journal is a fantastic tool to cultivate gratitude and mindfulness.
By dedicating at least 5 minutes per day to appreciate life and positive, confidence-inspiring thoughts, this journal can change the receiver's mindset.
Crafted to maximize manifestation, the 5 minute journal will inspire deep reflection and help to track challenges and the progress made.
By focusing on the user's daily achievements and leveraging inspirational quotes and affirmations, this journal can definitively help someone with anxiety.
The journal is also eco-friendly and produced with sustainable recycled paper.
The 5 minute journal is the ideal gift for people with anxiety because it will boost motivation and help to look at life events in a more positive way.
Pros
Cultivate gratitude and mindfulness
Can help to track progress and gradually reduce anxiety by boosting confidence
Cons
A bit expensive for a journal
Best Gift For
---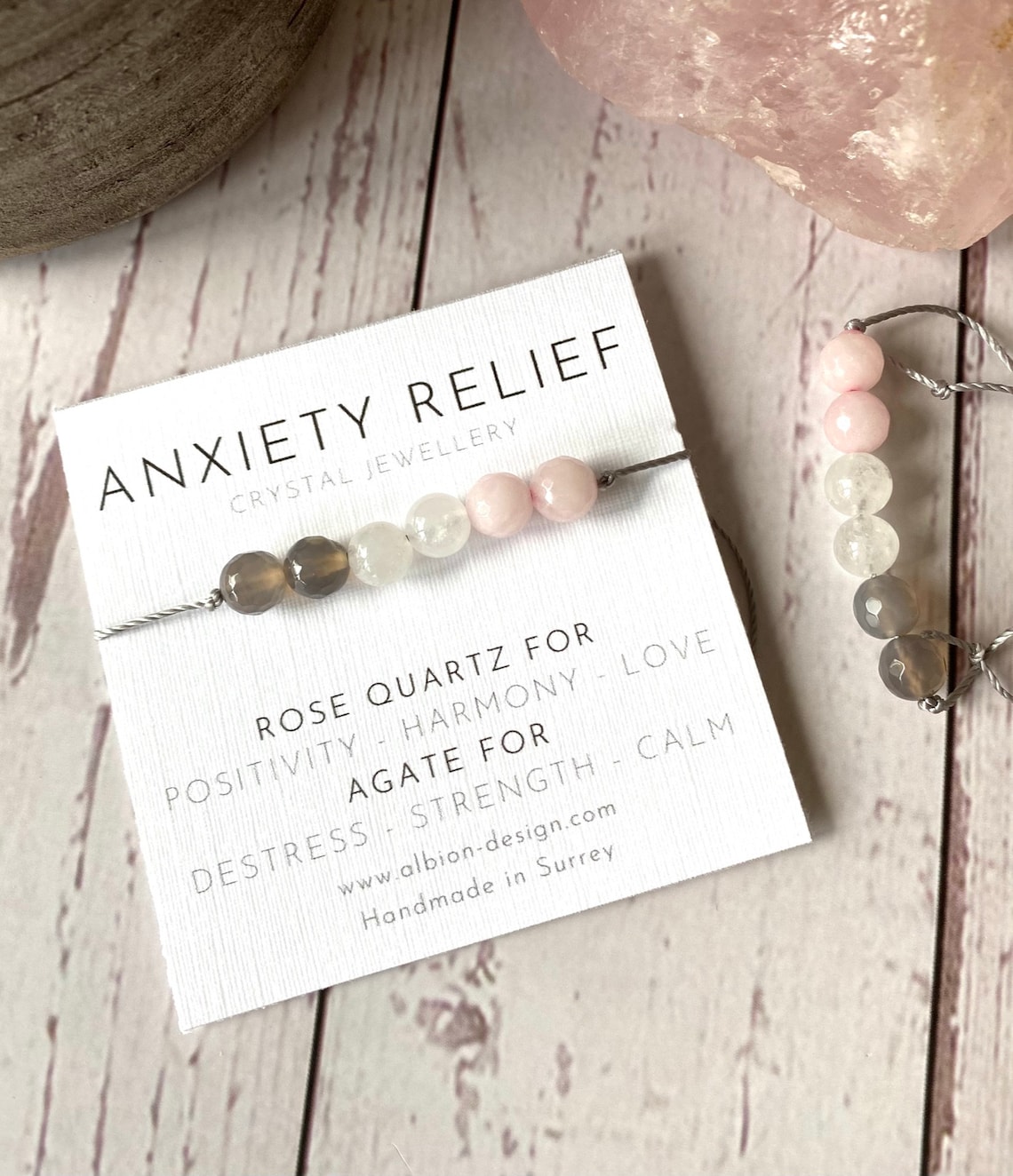 Price: £
Are you thinking about making a gift for a woman with anxiety? Then this nice handmade crystal anxiety bracelet may be ideal.
The bracelet is made from crystals that are well known to help relieve anxiety: Jade, Rose Quartz, and Agate.
Simple and stylish jewelry is a present that's never out of fashion, especially if you are looking for a wearable gift.
The bracelet comes already gift-wrapped, so you will not have to worry about that and you can even ship it directly to the receiver if you prefer.
Pros
Nice bracelet for a small budget
Already gift-wrapped
Cons
The crystals are natural so the colors may vary slightly
Best For
Simple wearable gift for women
---
Price: ££
It was impossible for me to not include this classic holiday gift for anxiety.
Compression socks can be very comforting as well as prevent fatigue, swelling, and help with restless legs (those are a great combo together with a weighted blanket for restless legs).
Thanks to their design, compression socks can help blood circulation and oxygen flow.
This gift can greatly help the well-being of athletes, flight crew members, teachers, pregnant women, and anybody else that needs to stand for long hours. In addition, they also give a nice feeling of safety that can help with anxiety.
What I especially like about those is that they come in different colors and patterns, making them an ideal Christmas gift for people with anxiety.
Pros
Breathable and temperature regulating
Comforting compression that relieves fatigue on the legs
Good variety of colors and patterns
Cons
They may feel too tight for some people
Best Gift For
---
Price: £££
Did you know that delicious dark chocolate can also be a great gift for anxiety?
While eating too much sugar is actually one of the anxiety habits to avoid, dark chocolate, if eaten in moderate quantities, can help reduce anxiety.
This is because dark chocolate contains two important antioxidants: flavonols and catechin.
According to research, flavonols found in dark chocolate can increase blood flow and provide benefits to the brain. The improved brain function can help to better respond to stress and relieve anxiety disorders.
The dark chocolate cabinet by Hotel Chocolat is a luxury box with a great variety of delicious dark chocolate. This is for sure a very tasty gift for an anxious person, ideal for Christmas and other holidays.
Pros
Dark chocolate can be beneficial for the brain and help with anxiety
Delicious treat
Cons
There's the risk of eating too much of it, but that's where having a box to hide the chocolates from the eye can help
Best For
Tasty gift idea and gift for foodies
---
Price: ££
Herbal teas are a well-known remedy for stress and anxiety as well as a popular holiday gift in the UK.
I often drink herbal tea, especially in the cold evenings in winter time and I've noticed that camomile can improve my mood and peppermint can help me to calm down and relax.
For this reason, I decided to include a nice gift box with a premium selection of the best herbal teas for anxiety on my list.
This gift box contains a selection of Camomile, Passion Flower, Peppermint, Lemon Grass, and Long Cut Rooibos which are my favorite herbs I use when I'm stressed out.
Pros
Great selection of the best loose leaf herbal teas for stress and anxiety
Excellent holiday gift
Healthy choice
Cons
Not everyone likes the taste of herbal teas
Best Gift For
---
How to Pick the best gifts for people with anxiety
First of all, one of the best gifts you can make to people with anxiety is your time, presence, and support. Especially if they are going through a difficult period.
When looking for the best gifts for anxiety, remember that even if many people with anxiety may experience similar feelings, their personal preferences and triggers can be very different.
That's why to pick the best gifts for people with anxiety you will need to pay attention to their personal preferences. For example, do they have problems with sleep? If yes, then a weighted blanket could be an excellent Christmas gift choice.
Do they have a tiring job that requires them to be on their legs for long hours? Then they may enjoy some nice compression socks or an Epsom bath salts gift set.
Do they have a toddler? This may be causing some anxiety and stress at night, in this case, they may love a white noise machine to enjoy calmer nights.
If instead, the person is more creative, then the best gift for anxiety could be a Buddha drawing board or a journal.
Do they have back pain? If they do and they are also an anxious person, I would personally go for the Pranamat ECO acupressure mat. You will be helping them with 2 of their issues at the same time and it would be a very original gift.
Just try to think about what present they may enjoy the most and, according to your budget, you can make the best choice.
Frequently asked questions
How to recognize anxiety in a loved one?
Here are a number of signs that can help to recognize anxiety in a loved one:
They are often worried about something: health, job, or other minor concerns
Their worry can affect their daily life and cause significant distress
They can't let go of their anxious feelings
If you notice those traits in a loved one, then they are likely to be an anxious person and benefit from the gifts for anxiety I listed above.
What are the best anxiety gifts for her?
Here are the best anxiety gifts for her in my list:
Relixiy weighted blanket for anxiety
Pranamat ECO Therapeutic Manual Massage Mat
Buddha Drawing Board
Mental Health Affirmation Cards
Moody Reversible Octopus
Sleep And Anxiety Balm
Earnest Living Essential Oil Diffuser White Ceramic Diffuser
Epsom Salt Gift Set Epsom Bath Salts
The 5 Minute Journal
AlbionStyle Crystal Anxiety Bracelet
To find the most appropriate gift for her, think about what she means to you, what she enjoys, and what issues she has. This will likely give you many great gift ideas!
Conclusion
I'm sure that you will be able to find some amazing and original presents for your anxious loved ones on my list.
Here is my complete list of the best gifts for anxiety:
Relixiy® Weighted Blanket For Anxiety
Pranamat ECO Therapeutic Manual Massage Mat
Buddha Drawing Board
Serenilite Hand Therapy Stress Balls
Mental Health Affirmation Cards
Moody Reversible Octopus
Sleep And Anxiety Balm
Earnest Living Essential Oil Diffuser White Ceramic Diffuser
Epsom Salt Gift Set Epsom Bath Salts
Easysleep White Noise Machine
Book: "Untangle Your Anxiety: A Guide To Overcoming An Anxiety Disorder By Two People Who Have Been Through It"
The 5 Minute Journal
AlbionStyle Crystal Anxiety Bracelet
Compression Socks
Hotel Chocolat The Large Chocolate Hamper
Herbal Tea Gift Box Tealover
Just remember to be present for your loved ones with anxiety, because your time and love are the best gifts for anxiety relief that you could ever make!